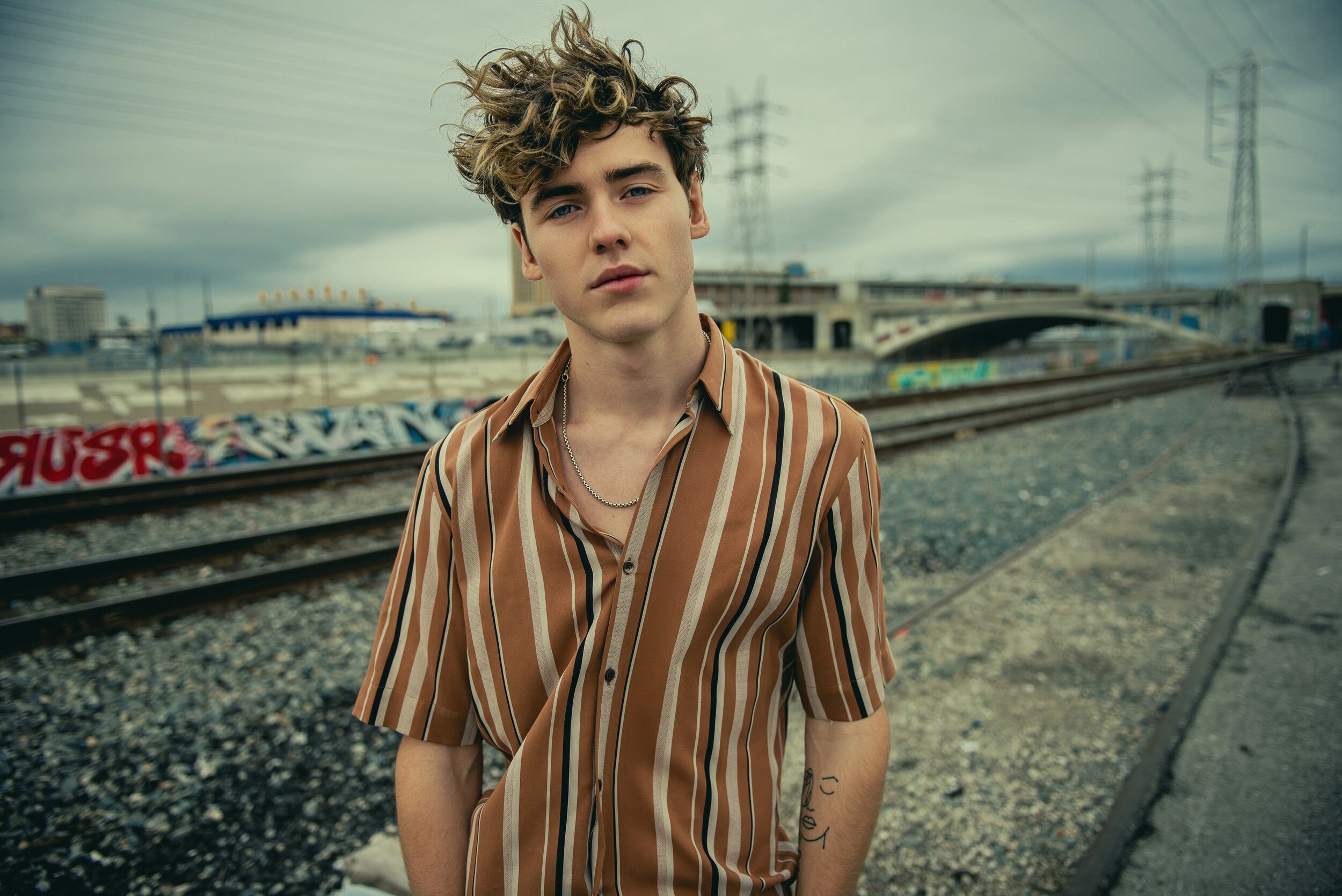 Chicago, IL // October 16, 2019
Youth, talent, and storytelling filled the intimate Schubas Tavern in Chicago's Lakeview neighborhood. Performing that evening were singer-songwriters Maisie Peters the 19 year old English musician and "The First Lady of Emo Pop" on her initial North American headline tour along with 21 year old Australian alt-pop guitarist Jack Gray in support.
The atmosphere of the 165 capacity music room, located in an old Schlitz brewery tap house established in 1903, set the stage for an entertaining night out. The venue itself was as charming as the live acts. Listed as "one of the seven most iconic concert venues in America" and having personally seen several acts get their starts there over the past 20 years it is one of my favorites. The real opener was the fried mac and cheese bites which I had the pleasure of being the first ever to try this newest dish on the menu. Severed by the friendly Debbie who along with the rest of the inviting and hospitable staff made for a pleasurable visit. While waiting for the doors to open I noticed famous photographer Paul Natkin walking out from doing a photo shoot with Jack, it was then I knew we were in for a special night.
After a brief wait the musical journey began, Aussie Jack Gray took the stage. Don't let his good looks and smile distract you from his well versed lyrics and talented guitarmanship. He reminds me of a young John Mayer. The audience locked into this performance instantly. His between melodies banter did not come off as a rehearsed or polished production but rather spoken from the heart. As his set built you could tell from the songs explanations that they came both from a growth of individual understanding as well as an attempt to help others know their own stories and relationships at all levels. This message was most telling in "Bullet", a song Jack wrote about the young people in his small community back home dealing with a high rate of depression and suicide.
Gray's instrumental talent is much more advanced than his age would let you believe coming from a very musical family which included a grandmother who was a pianist and himself picking up the guitar at age 6. His authentic interactions with fans before, during, and after were clear as he took the time to listen and pose for post-show photos with those who wanted to meet him. You can tell Jack's inspirations come from everything he experiences, big or small. This can be seen first-hand in the short video stories posted every few days on his social media captured by the talented documentarist Josh Pulford about their current trek across the United States and Canada.
After Gray's set, the incredibly relatable Maisie Peters delighted the adoring concert goers. Opening with "Stay Young" and "Adore You" Peters' got the crowd moving with her quirky, vulnerable, and catchy tunes. Warning us that were would be plenty of slow and sad tunes played she invited everyone to feel comfortable and dance to their hearts content. Even at only 5 foot tall the Brits energetic and personable stage presence drew you into her organic emo girl pop. You could feel the connection grow as the UK YouTube and internet streaming known musician played her songs live for fans who had been watching her mature online. Her honesty and unconcerned with appearing cool were made evident in the stories, jokes, and quips she shared. She got a warm laugh promising everyone that "she isn't a witch even though she often ends up living out her lyrics after she writes a song". She also mentioned her merch modeling boyfriend Spencer who just happens to be a mannequin but quite often finds his way into her Instagram feed and stories.
Each song resonated as a top 10 radio hit from the reaction of her dedicated fan base. Later in the set, alone with her guitar and standing off the mic, she captivated a silent and observant gathering with the unplugged acoustic version of the unreleased "Back to You". She also pointed out a group of "lads" in attendance and appreciated their moshing to her cute melody "April Showers". Right before what should have been her encore exit she explained "it might be a safety hazard to leave the stage", which was true with the sold out crowd, Maisie informed us that she would staying put but these would be her last two songs. She finished her set with favorites "Personal Best" and "Worst of You". She was joined by Christina Hizon on backup vocals and keyboard and Joel Peat on guitar and vocals.
The night ended with Maisie and Jack hanging out with anyone who stuck around, Peters even taking the time to video chat with those who could not attend in person and leaving messages on their social apps. She has come a long way from performing to open mic pub crowds in the East Sussex seaside resort town of Brighton. She could have filled a theatre five times the size but again it was the experience that will grow into friends who will bring even more friends to her next tour visits. From her growing catalog, strong social media connection, and industry buzz it won't be long before Maisie stands out in the crowd with artists such as Sigrid, Billie Eilish and Clairo. The connections and memories will forever be with those who were lucky enough to attend this midweek personal performance.
To keep up to date with the band and what cities they are playing at, check out their websites
Maisie Peters
Website: www.maisiepeters.co.uk
Facebook: facebook.com/maisiepetersmusic
Instagram: instagram.com/maisiehpeters
Twitter: twitter.com/maisiehpeters
Jack Gray
Website: www.jackgraymusic.com
Facebook: facebook.com/jackgraymusic
Instagram: instagram.com/jackgraymusic
Twitter: twitter.com/JackGrayMusic
For photos from this show, go to: Sonic Live Media Photo Gallery
Written by: Attila Hardy, Sonic Live Media
You Tube Video
Maisie's Set List:
1. Stay Young
2. Adore You
3. In My Head
4. Place We Were Made
5. Take Care Of Yourself
6. Look At Me Now
7. Back To You (unplugged)
8. Feels Like This
9. April Showers
10. Best I'll Ever Sing
11. Favourite Ex
12. This Is On You
13. Personal Best
14. Worst Of You